Offering a highly elegant look, sheer curtains are quite attractive and very useful for people who prefer privacy. Made from semi translucent and flimsy fabrics like cotton lace or loosely woven polyester voile, sheer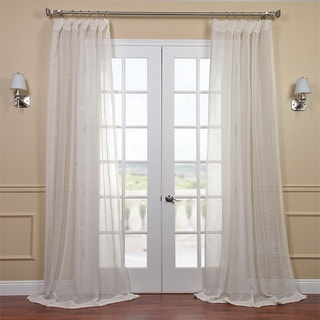 curtains allow the maximum transmission of light. The weaving of the sheer fabric allows a basic level of UV protection, while retaining maximum visibility through the curtain. These curtains allow the people inside the home to see the outside view, while preventing people outside the home to see directly inside. These curtains are often referred to as privacy curtains due to their screening abilities.
Sheer Curtains
The transparency of sheer curtains allows you to dress a window without restricting the sunlight from entering the room. Sheer curtains not only look elegant but also provide a bright breezy feel and are great for living rooms, bedrooms and kitchen windows.
Curtains made from sheer fabric can be used independently or behind heavier drapes to provide an attractive look. Available in a variety of colors and designs, sheer curtains are not very costly and a versatile home décor choice. These curtains can be used in any place, be it your bedroom
window or to create a partition within a room.
You can use a single layer of these curtains or multiple layers to create a new and attractive window treatment. Layers of different colored curtains can be used to match the color and designing on your walls or create a special look for your room.
Curtains made from translucent material, especially sheer, are ideal in case you have indoor plants. These curtains protect your plants from direct sunlight while allowing in enough light for them to grow. Not only this, these curtains are easy to maintain and can be washed quickly. You just need to soak the curtains in warm soapy water overnight and rinse them thoroughly the next morning. However, their translucent nature makes them fragile and one should avoid frequent washing.
The color of the sheer fabric chosen for a curtain depicts the overall mood. For a more striking appearance one should choose contrasting colors, white or off white shades of sheer reflect a lighter mood. You can add style to your curtains by choosing ones with little bit of embroidery or a floral design. These curtains can be used in many decorative ways in various parts of your home.
Simple sheers
Simple sheers are truly timeless and can work with modern or traditional looks, and anything in between. Because they allow light and shapes to filter through, they work extremely well as a wall-to-wall treatment, creating a continuous backdrop that anchors a room without completely hiding architectural features.
Sheers work well in a room with a lot of pattern, providing soft visual relief from the dynamic drama of a busy geometric print. Layering sheers under a solid drape provides light filtering options as well as creates a polished look with chic hotel appeal.
However, sheers can also stand on their own. For an airy, romantic bedroom, nothing beats the look of a window wall draped in only sheers, especially when paired with cloud-like white painted brick. If privacy and light aren't an issue — maybe you can achieve those with some well-placed greenery outside — this is certainly a dreamy look.
Sheers generally look their best when they're long and casually elegant, and they can even work beautifully spilling beyond the bottom of a window, especially in a room with hints of rustic charm, like the one shown here. If you're unsure of length, always go long instead of short, even allowing the fabric to pool on the ground slightly.
Sheers are very often white or off-white, but a moody gray adds a mature, sophisticated flair and adds interest to a pale wall. Choose a material with a hint of sheen and pair it with a sparkling mirror or metallics for a classic glam effect.
in front of a wide window, simple white sheers still look great broken into sections, so you can combine individual prepackaged panels for fullness, as long as you get them in an appropriate length that fully reaches the ground.
White Sheer Curtains
Color-matching sheers to a textural wall covering allows them to visually blend together, creating the appearance of very soft lines where the window dissipates, for an extra-light and airy vibe.
For bohemian flair, combine solid and patterned sheers in stripes. This look can easily be achieved with prepackaged curtains, with a quick edit by a seamstress or DIY sewer to combine the disparate panels into one solid treatment.
Sheers don't work only with windows. They make excellent room dividers in an open-concept layout. Use them to gently separate spaces in a modern house or condo, or even in a studio apartment, without completely losing the sense of openness.
The space-defining power of sheers isn't limited to the indoors, either. In a patio space, sheers give the feeling of being in an outdoor room and can soften, without erasing, the hard edge of a home's exterior for a breezy cabana atmosphere. Stick to organic beige hues for practical purposes and if the romantic flowing look of sheers isn't totally for you, consider sheer in-window shades.
Best Sheer Curtains
Some home makers would love to have indoor plants that need little sunlight. The sheer curtains will protect the plant from fading because of excess sunlight or dying because of no sunlight. They are easy to maintain since they are light weight. Simply soak the curtain overnight in warm soap water for about 12 hours maximum and rinse and dry them perfectly with hooks.
Make the best use of sheer curtains and beautify your homes to look beautiful from the outside as well as the inside too. Basking the elegance
of the interior of your bedroom all dressed up with sheer curtains; enjoy the warmth of the living room with your family and friends on a weekend. The stronger lines create a more architectural feel, with the same light-control powers and the same timeless beauty.
Sheer curtains give any room in the home the kitchen, the bedroom, the bathroom or the living room, the style and comfort that it requires. It's hanging on the walls and widows sophisticate any type of room and make it look inviting and friendly to the inmates as well as to the outsiders.